Get money donated to you

for a creative project of yours.
The following details how.
"Fund and Follow Creativity"

@
Kickstarter.Com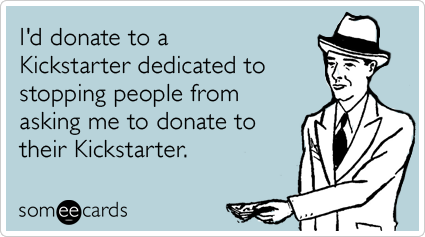 INVESTORS:

This is a great way to learn
about big hits before they get big.
1
"

Can Kickstarter be used to fund anything?
We allow creative projects in the worlds of Art, Comics, Dance, Design, Fashion, Film, Food, Games, Music, Photography, Publishing, Technology, and Theater."
Basically, make up an item or set of items that isn't in existence yet, then make a few of them or draw detailed pictures of what they will be like. Describe them vividly. Offer your backers very generous gifts for their pledges, effectively selling your items in advance, so that you will get the money to actually make them by launching a large scale production which will allow you to profit and keep producing (at a lower cost), thus achieving a greater inventory and selling ability.
CLICK HERE to view a KickStarter project that got funded.
CLICK HERE to visit their independent website/card shoppe.
"

What's Kickstarter?
Kickstarter is a funding platform for creative projects. Everything from films, games, and music to art, design, and technology. Kickstarter is full of ambitious, innovative, and imaginative projects that are brought to life through the direct support of others.
Since our launch on April 28, 2009, over $350 million has been pledged by more than 2.5 million people, funding more than 30,000 creative projects. If you like stats, there's lots more here."
"Everything on Kickstarter must be a project. A project has a clear goal, like making an album, a book, or a work of art. A project will eventually be completed, and something will be produced by it.
Kickstarter does not allow charity, cause, or "fund my life" projects. Check out our project guidelines for details."
"It works. Of the projects that have reached 20% of their funding goal, 82% were successfully funded. Of the projects that have reached 60% of their funding goal, 98% were successfully funded. Projects either make their goal or find little support. There's little in-between."
2